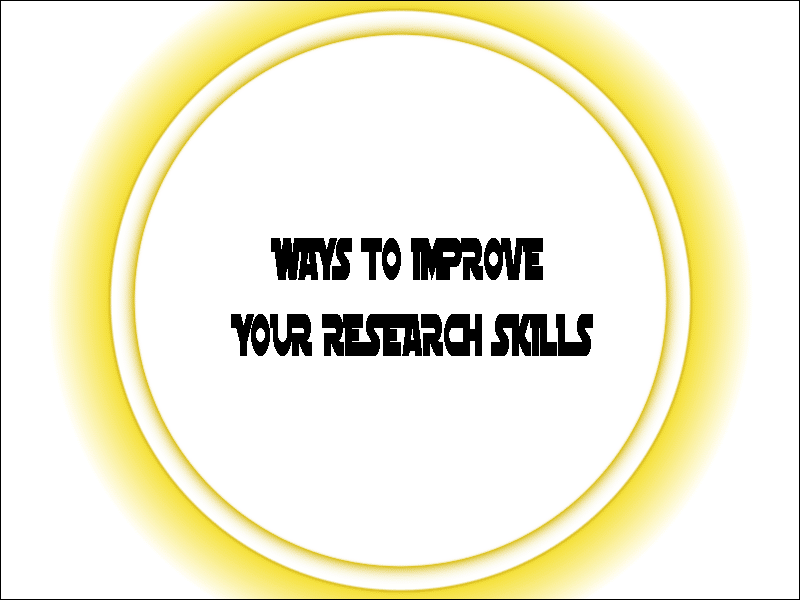 10 WAYS TO IMPROVE YOUR RESEARCH SKILLS
Be versatile
It sounds safe and acceptable for a writer to focus on what he/she knows. But although this seems perfectly sound on one level, living by this mantra will eventually limit and deter your career as a researcher. In order to grow as a professional, writers and researchers should be taught how to write on abstract and unfamiliar subjects. Doing this fulfils the goal of research which is to discover and pass on new knowledge. Pushing your limits as a researcher adds to your repertoire. Presently, all-around writers are in high demand and this level of versatility opens doors to other opportunities. Researching and writing about new and unfamiliar subject opens up a fresh perspective.
After hours of research and in-depth study, you will discover that when you start to write, your words have depth and authority. Suddenly you will discover that you are a legitimate source of information; similar to an expert.
Develop an inquisitive mind
People with an inquisitive mind are always on the lookout for new knowledge, interested in new developments, ideas, insights, and perspective. An inquisitive mind wants to know. Having an inquisitive mind enables you to go beyond the subject to look at the bigger picture. In order to develop an inquisitive mind, you need to form the habit of asking questions. Also, try to recognize issues you'd like to explore and endeavour to look out for solutions to problems.
Pose the thesis
Any form of research needs to provide the solution to a problem as well as provide an answer to one specific question. The thesis helps you to achieve this goal. It is necessary that you set the thesis of your work in the preliminary part of the research. The specific topic will help you avoid unnecessary information in your work and help you focus only on important information which is closely connected to your work. Gathering unnecessary information could be misleading and could also make a mess of your work.
Let your Problem Statement reflect a properly analyzed problem
In the course of writing a research paper, you can start formulating your problem statement as soon as you have gotten a good grasp of the issues which the research intends to solve. This forms an important part of your research, so it is required that you schedule enough time for it. The clearer and more focused your problem statement is, the better the quality of your research. A good problem statement is basically a clear and concise description of the problem you intend to address or solve.
Plan your research carefully
Planning is vital in the course of your research work. After outlining your problem statement and setting out the scope of your research work, planning your research becomes crucial. Each research project is unique, but you could plan your research work bearing the following factors in mind: purpose, time resources, and scope.
Avoid plagiarism
As a measure to improve the quality of your research, take time to understudy what constitutes plagiarism and learn how to correctly paraphrase and attribute words and ideas.
Consult Experts
One of the most important steps in your research is finding the right sources to obtain information. Researchers continually face the challenge of finding the right people to share information that will enhance the quality of their work by making it accurate, believable and entertaining. This highlights the need to find the right person to consult. With any project, it is paramount to consider whether you need an expert or just someone to give you background knowledge on your research. You can also consult other writers who have good experience in the field of research.
Take advantage of new technologies
As technological advancements continue to increase at a fast rate, a lot of scientists and researchers have started utilizing modern tools which enhances the research process by making it much easier, faster and comfortable. There are currently many websites which provide researchers with well-ordered catalogues of specific literature.  There so many new tools such as Zotero and Mendeley which helps you gather, organize and keep information. Familiarizing yourself with such modern tools will have a great impact on your research skills.
Set a schedule
In order to meet deadlines and write good research articles, it is paramount that you set a schedule. Split your work into parts and assign certain periods of time for each of them. You could map out a weekly or daily plan for completing the project at hand. Nevertheless, always leave out some extra time for checking your sources and organizing the material you have worked on.